Stefano Tamburini - Mongoholy Nazy/Thalidomusic for Young Babies (clear vinyl)
€

30.00 Sold Out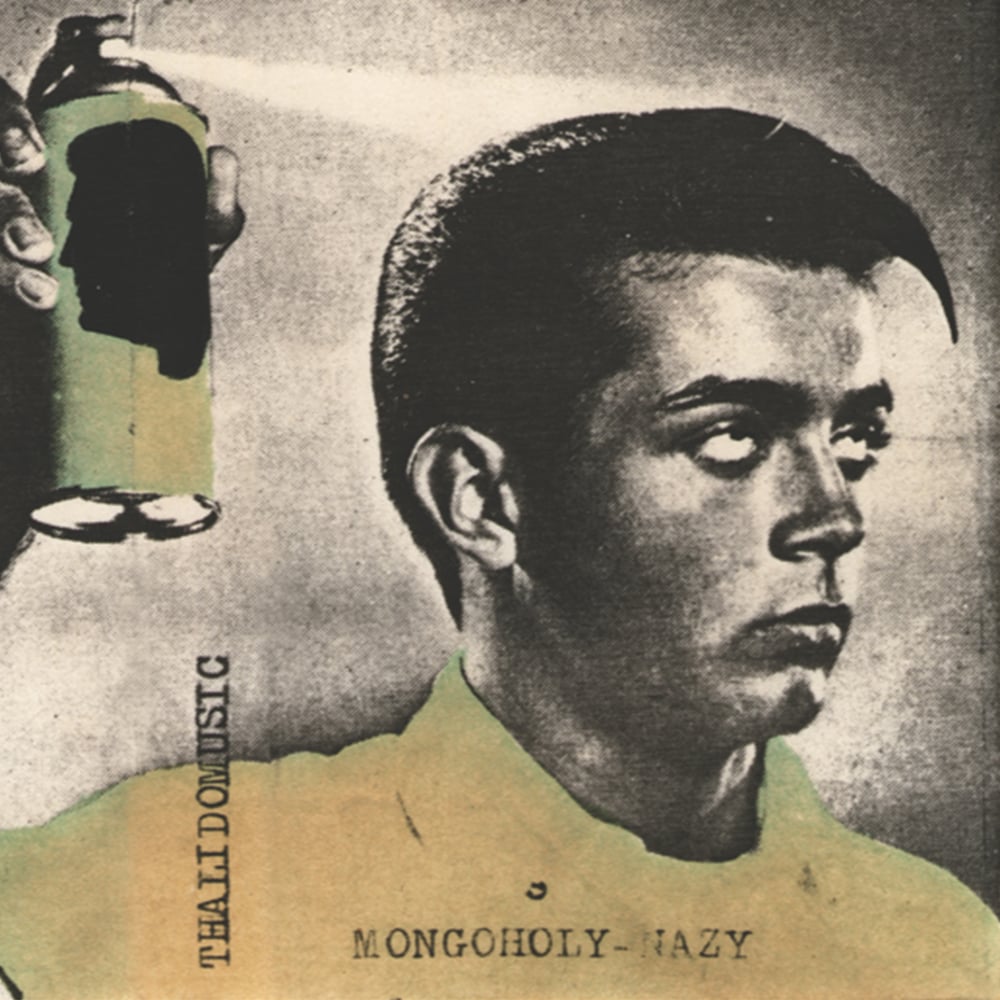 Double vinyl LP in gatefold sleeve
100 limited edition copies in clear vinyl
No repress.
1986. April. Unspecified day. Undefined hour. Apartment in an undefined suburb of Rome. A living nebula in a city that constantly repeats the pagan rite of its own life existence. A mattress on the floor. This is one certainty. Next to it a body. Undoubtedly the one of Stefano Tamburini. Heroin. Overdose. Another certainty. The last one.
Because the true and the false for Stefano Tamburini had always been useless. Meaningless. Because everything "is" when it "is", like a quantum commandment. Everything "is" when you feel it, when it scratches you, it knocks you to the floor. When you live. The rest doesn't exist, it won't exist for eternity. But then it returns, sudden, but it's already past.
Stefano Tamburini is the great absentee of Italian culture, chemical ghost of Italian media laboratories, where they create myths for the present generations, ready to be parcelled up in astonishing series to be included in national newspapers or TV shows that breastfeed the thousands of Millenniums depressed by cerebral onanism caused by encephalic absence.
Stefano Tamburini was, but he especially wasn't. Incessant denial. But not as an act of disobedience. That attitude belongs to the winners, the Italian race par excellence, devoted to the constant and servile adoration for the "strong" and to the constant scorn for the weak. Instead Tamburini dedicated himself to the narration of constant disavowal, creating an extremely personal code of No! always and anyways: not to conquer spaces of recognition, but to lose his conscience and presence right in those very spaces, to recreate a reality that's denial of the present, so more true than the truth.
Stefano Tamburini was many things: comics author with the marvellous invention of Ranxerox (a monumental screenplay on Frigidaire entrusted to the Michelangelesque pencils of Tanino Liberatore: the synthetic chav Ranx with his teenage girl Lubna in a grim cyberpunk Rome) and Snake Agent (absolutely revolutionary for the time, created using Xerox Art techniques and the use of détourment inherited from Situationist International). Creator of magazines, graphic designer and non-musician.
A kinetic vortex that united the New York of Mars and Contortions with Mario Schifano, Tano Festa and Franco Angeli. The Throbbing Gristle and Cabaret Voltaire with Residents and Aldo Piromalli, Pere Ubu with Alberto Grifi and Victor Cavallo.
Stefano Tamburini wrote a column on Frigidaire entitled RedVynile. In this column, Tamburini played the part of a ruthless music critic, precisely RedVynile, who inevitably tore to pieces any musical proposal, using a rude style that bordered on obscene language. Because of this column, many upcoming musicians started to send their tape-recorded music to Tamburini asking for his opinion and advice. Tamburini, submerged by tapes and annoyed by their poor quality, decided to create a musical collage by cutting and destructuring the tracks he received. He published the result under the pseudonym Mongoholy-Nazy, playing the part of an imaginary Hungarian musician. This was the genesis of Thalidomusic for youngbabies, which was released on cassette in just a few dozen copies.
But what is Thalidomusic for youngbabies? First of all it's Italy's biggest "no wave" work, in fact anti-wave work, The Apotheosis of No! But even more importantly Thalidomusic for youngbabies is the most true and sincere (so crude, violent, dirty, but unbearably romantic) narration of Italy in the very early 1980s. Try to read Thalidomusic for youngbabies with your ears and you will suddenly be catapulted into the most harrowing generational film ever made in Italy. Yes, because Thalidomusic for Young Babies should be lived like a visual story, but made one's own and experimented on one's own skin. A non-fiction work about the lost generation that emerged from the 1970s devastated. Suburbs, blood, shit, love and hormonal cataclysm. An escape route towards closed and oppressing spaces. Destroy and don't rebuild. Getting lost. Have a good journey towards nowhere with Thalidomusic for Young Babies.
Disc 1
A)Thalidomusic for young babies part 1
B)Thalidomusic for young babies part 2

Disc 2
A)Seibab gnuoy rof cisumodilahT part 1
B)Seibab gnuoy rof cisumodilahT part 2
Originally Released 1981 - RAY SOLILOQUIO RECORDS
All Tracks By Stefano Tamburini/Mongoholy-Nazy
Restoration of the original master @ 24Bit/96Khz: Marco De Tommasi
Re-Release coordination: Roberto Giannotti e Michele Mordente
Original Cover: Stefano Tamburini
Remix of the original cover: Giuseppe Ambrosio
Produced For Plastica Marella (Editore In Modo Moderno)
© & ℗ 2017 plasticamarella.com - Created in Italy but made in Germany
200 limited edition copies in black vinyl 180 g
100 limited edition copies in clear vinyl
Share