MONOFONIC ORCHESTRA: CARNIVAL - The Roger Stanza Sessions -
€

25.00 On Sale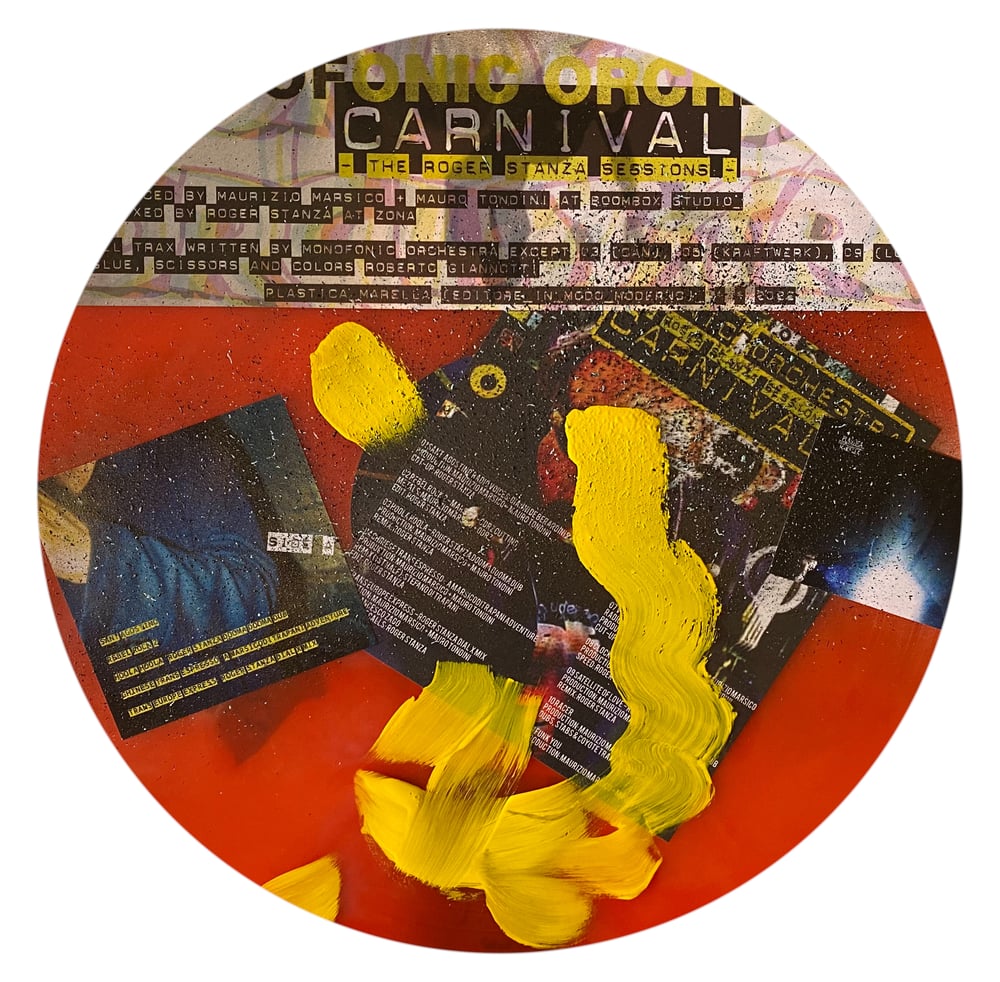 Vinyl Lp 12" 140g - Transparent - Round - enclosed in a transparent plastic sleeve with applications of illustrated adhesives, paint splashes and errors of road chemical materials. Each album cover is unique.
Limited Edition in 300 copies – No Reprints -
*** SHIPMENTS WILL RESUME AT THE END OF AUGUST. KISSES FROM ROME.***
Some bonds last over time. This could be the synthesis of this album. Many years ago, in the infamous 80s of Milan, when Maurizio Marsico was the most irregular producer on the scene, in an adventurous balance between avant-garde and dance, and Mauro Tondini, half Tipinifini, surfed the waves of the Italian-disco scene, Roger Stanza, who was a fan of their music, was like a sort of Mr Wolf for the two reckless friends. Not that he lived far from trouble, but compared to M&M he could appear fairly sober and he could solve problems. Let's just say he managed to unlock some pretty complicated situations. Since then, the three have never lost sight of each other, even if life - yes, I'm getting to it - has its paths that tend to take peculiar, albeit somewhat parallel directions. So Maurizio and Mauro, after years of proximity and always being active in Milan, met again and decided to collaborate for the first time, starting to work on an unusual project.
One album: "Carnival".
"Carnival like that of Rio or Schumann, the animals of Saint-Saens' Carnival and the one in Bourbon Street, the Carnival of Festivals and armchairs, the Carnival of politics and geopolitics, the social Carnival that sterilises any reality and the infodemic that amplifies and confuses every emergency. In short, the tragicomic Carnival of life, which as soon as you start having fun, it is already Lent".
These were fruitful sessions, but at a certain point, the two believed they needed a third intervention, or rather a third-party intervention, i.e. someone who solved problems from the outside. And that's when Roger Stanza got back in the game. Italo-American, Roger left Milan in the late 1980s, moving to Brighton, where he first followed the acid-house lighthouse, DJ with the name of *+§ 'ìf7 allo Zap and was the animator of many legendary secret parties, and where he continues to live today directing, outside the musical context, the offices of Geography Enterprises, in the wake of his specialisations in comparative geography, a field where he is a worldwide luminary. Maurizio and Mauro remembered the strange productions that Roger had played for them, and they managed to convince him to get on board by sending him the recorded material – where, in the meantime, collaborations such as those of Stefano Di Trapani and ODRZ had been added - and asking him a specific question: "What record are we trying to make?". "You are trying to make a psychedelic record, I have no doubt", the answer. To which the two countered: "Do you want to get your hands on it? You have carte blanche". "Okay Roger," Roger replied from the control tower, where he had closed himself in for an entire weekend. He came out with smoking coils in his hand, which Maurizio and Mauro enthusiastically welcomed, mistaking them for whimsical pizzas. "There it is! This is the album!".
What emerged was a really multi-flavoured disc where there is tomato and mozzarella but then many other strange creatures, from a Satellite Of Love that seems to be made by a zombie jam between Lou Reed, Phil Spector and Lee "Scratch" Perry, a disturbing telephone message to the Kraftwerk of Trans Europa Express, mutant squares of piano solos, noise plates, Moroder on opiates, a version of Hoola Hoola, the hit bubblegum by Can, which seems to come out of the afro-cosmic mythology of Daniele Baldelli, mechanical orange monkeys, coyote howls and funk jingles. The soundtrack to a cartoon? The disgruntled sympathy of a bad trip? A freak carnival? The first album of the Monofonic Orchestra with an extended line-up? Definitely, and much, much more!
Ci sono dei legami che durano nel tempo. Questa potrebbe essere la sintesi di questo album. Tanti anni fa, nei famigerati anni '80 milanesi, quando Maurizio Marsico era il produttore più irregolare della scena, in avventuroso bilico tra avanguardia e dance, e Mauro Tondini, metà Tipinifini, surfava le onde dell'italo-disco, Roger Stanza, che era un fan della loro musica, era come una sorta di Mr. Wolf per i due spericolati amici. Non che lui vivesse lontano dai guai, ma rispetto a M & M poteva apparire persona sobria, e, di fatto, risolveva problemi. Diciamo che riuscì a sbloccare alcune situazioni piuttosto complicate. Da allora i tre non si sono mai persi di vista, anche se la vita, si sa, ha i suoi percorsi che tendono a prendere strane direzioni, più o meno parallele. Così Maurizio e Mauro, dopo anni di distanza ravvicinata, sempre attivi a Milano, si sono ritrovati e hanno deciso per la prima volta di collaborare, iniziando a lavorare a uno strano progetto. Un album: "Carnival".
"Carnival come quello di Rio o di Schumann, il Carnival degli animali di Saint-Saens e quello in Bourbon Street, il Carnival dei Festival e delle poltrone, il Carnival della politica e della geopolitica, il Carnival social che sterilizza qualsiasi realtà e quello infodemico che amplifica e confonde ogni emergenza. Insomma, il Carnival tragicomico della vita, che appena ti diverti è già Quaresima".
Sessions fruttifere, che però a un certo punto i due ritenevano necessitassero di un terzo intervento, o meglio di un intervento terzo, qualcuno che dal di fuori risolvesse problemi. E qui torna in ballo Roger Stanza. Italo-americano, Roger ha lasciato Milano a fine di quegli anni '80, trasferendosi a Brighton, dove seguì prima il faro dell'acid-house, DJ con il nome di *+§'ìf7 allo Zap e animatore di molti leggendari party segreti, e dove continua a vivere oggi dirigendo, fuori dal contesto musicale, gli uffici di Geography Enterprises, sulla scia delle sue specializzazioni in geografia comparata, campo in cui è un luminare a livello mondiale. Maurizio e Mauro si ricordavano delle strane produzioni che Roger gli aveva fatto sentire, e sono riusciti a convincerlo a salire a bordo mandandogli il materiale registrato – dove nel frattempo si erano aggiunte collaborazioni come quelle di Stefano Di Trapani e degli ODRZ - e formulandogli una domanda precisa: "Che disco stiamo cercando di fare?". "State cercando di fare un disco psichedelico, non ho dubbi", la risposta. Alla quale i due controbatterono: "Ti va di metterci mano? Hai carta bianca". "Ok Roger", rispose Roger dalla torre di controllo, dove si chiuse per un weekend intero. Ne uscì con in mano delle bobine fumanti, che Maurizio e Mauro accolsero con entusiasmo, scambiandole per pizze capricciose. "Eccolo! È lui l'album!". A uscirne un disco effettivamente multigusto dove ci sono pomodoro e mozzarella ma poi tante altre strane creature, da una Satellite Of Love che sembra fatta da una zombie jam tra Lou Reed, Phil Spector e Lee "Scratch" Perry, un inquietante messaggio telefonico ai Kraftwerk di Trans Europa Express, mutanti quadretti di piano solo, lastre noise, Moroder in oppiacei, una versione di Hoola Hoola, la hit bubblegum dei Can, che sembra uscire dalla mitologia afro-cosmic di Daniele Baldelli, scimmiesche arance meccaniche, fughe di coyote, sigle funk. La colonna sonora di un cartone animato? La simpatia malmostosa di un bad trip? Un carnevale di freaks? Il primo album della Monofonic Orchestra in line-up allargata? Senz'altro, e molto, molto di più!
*** SHIPMENTS WILL RESUME AT THE END OF AUGUST. KISSES FROM ROME.***
Share