Maurizio Marsico/Stefano Di Trapani - The Greatest Nots
€

18.00 On Sale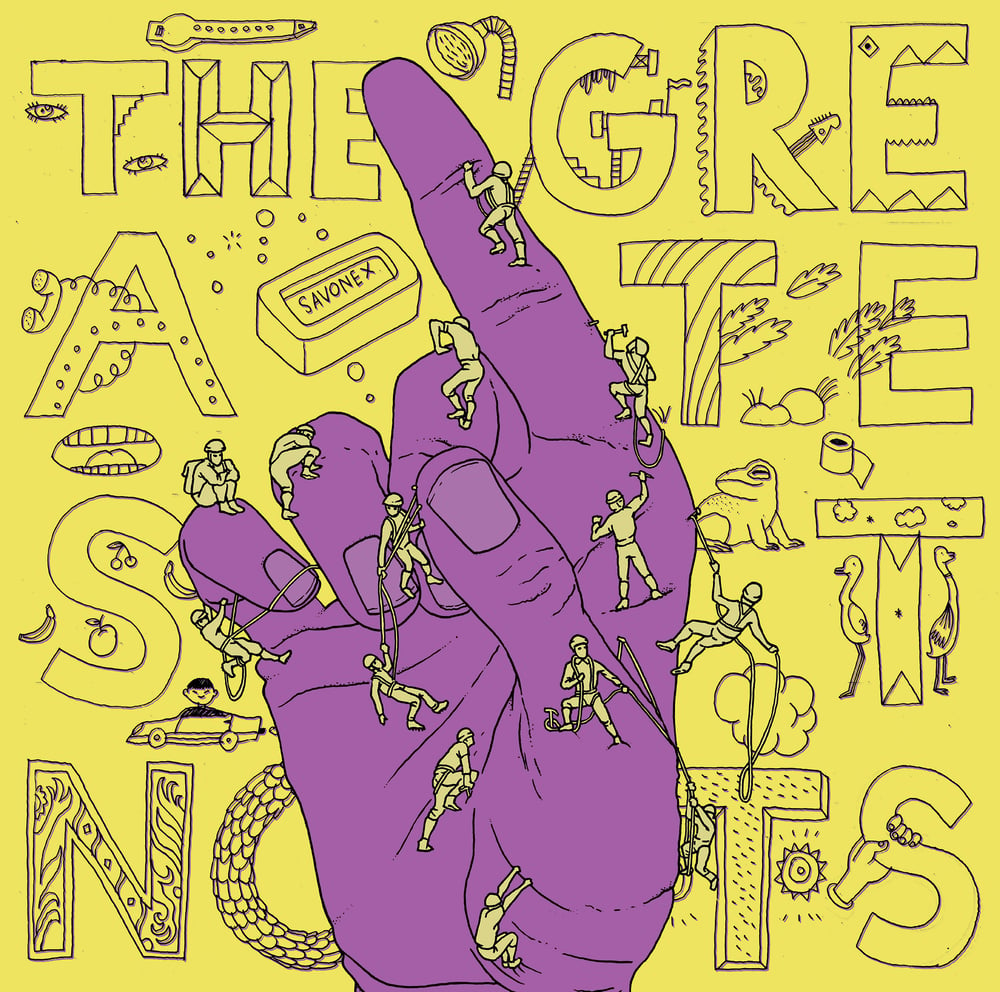 Vinyl LP in gatefold sleeve
Limited edition in black vinyl 140gr.
300 units only. No repress.
Sooner or later it was bound to happen. They are those unforeseen occurrences that suddenly and unexpectedly appear inside your auricle that make the history of Italian music. "History" with an incorruptibly lowercase "h"; because it's the fact that it's lowercase that changes our cultural existence. That unanticipated oversight that comes bursting through, that unwanted error that rises up with absolute certainty. The minimum common divisor that becomes huge in the mainstream imagination. Inside or outside. With or without. It is or it isn't. The philosophical garbage heap for the underclass perpetually suffering from symptoms of withdrawal from everywhere and anyway.
Maurizio Marsico, the magnificent mistake of Italian music. An absolute master at running decades of contemporary music through the spin cycle in the pressure cooker of post-modern madness. Inadvertently. Since the end of the seventies, he has been silently leading the way for Italian cultural processes, giddily masturbating them and tossing them to people who are hungry but have no digestive apparatus, aimlessly displaced in the outskirts of nothingness. From Milan to New York. Almost always with no return.
Then there's Stefano Di Trapani, the absolute presence of the "other cultures" that have traversed the first twenty years of the 2000s. Without Di Trapani (often masquerading under the pseudonym "Demented Burrocacao"), Rome would have failed to dictate forms and methods within the architecture of international sound. He is an absolute manipulator of compliant thought and a declared destroyer of the planetary rules of sound. He is also a member of the cultural underclass in the wretched realm of absolute certainties.
Together they created The Greatest Nots, an encyclopaedic crib sheet of what was, is and will be missing from Italian music. A Hahnemann-esque project where forty years of splinters of Italian music have been diluted and dynamised. A homeopathic process carried out by two alchemists who are totally unaware of the processes that led to the creation of the homunculus, settling for just his hearing apparatus and his hypothalamus. Like modern butchers, they offer us the rotten meat of Italian music, blood and fat to feed the proletariat crushed by contemporary simultaneity. Everything is so that everything returns, in distorted yet fascinating and obsessive forms. Things that make the "newness" we're drowning in look like the sludge extracted from the sewers of a modern psychiatric facility. Nothing will be as it was before because what there was before never existed.
All this is contained within an eye-catching extendable cover illustrated by Enrico Infidel D'Elia and Simone Tso. Inside you can find a record telling you about everything you've missed over these years of pointless sound existence. Amen.
Prima o poi doveva accadere. Sono gli eventi inaspettati che all'improvviso e inopinatamente si palesano all'interno del padiglione auricolare che fanno la storia della musica italiana. Storia con la "s" immarcescibilmente minuscola, perché è il minuscolo che cambia le nostre esistenze culturali. L'inattesa distrazione che irrompe, l'errore involuto che si erge a certezza assoluta. Il minimo comun divisore che diventa mastice dell'immaginario mainstream. Dentro o fuori. Con o senza. È o non è. Discarica filosofica per il sottoproletariato in perenne crisi d'astinenza di ovunque e comunque.
Maurizio Marsico il magnifico errore della musica italiana. Un gigante assoluto nel centrifugare decenni di musica contemporanea nella pentola a pressione della follia postmoderna. Inconsapevolmente. Dalla fine degli anni70 lui detta silente la linea dei processi culturali italiani, li masturba vorticosamente e li getta in pasto agli affamati senza sistema digerente che sfollano senza meta nella periferia del nulla. Da Milano fino a New York. Quasi sempre senza ritorno.
Poi l'altro, Stefano Di Trapani, presenza assoluta delle "culture altre" che hanno attraversato i primi vent'anni del secolo in corso. Roma senza di lui (con l'identità spesso camuffata dietro lo pseudonimo di Demented Burrocacao) non avrebbe dettato forme e modi nell'architettura del suono internazionale. Assoluto manipolatore del pensiero conforme, assassino dichiarato delle regole sonore del pianeta. Anche lui sottoproletario culturale nel regno disgraziato delle certezze assolute.
Insieme hanno realizzato The Greatest Nots, un bignami enciclopedico di quello che mancava, manca e mancherà alla musica italiana. Un progetto alla Hahnemann, dove sono diluite e dinamizzate quarant'anni di schegge musicali italiane. Un processo omeopatico realizzato da due alchimisti completamente ignari dei processi che hanno portato alla creazione dell'homunculus. Loro si sono accontentati solo del suo apparato uditivo e del suo ipotalamo. Come moderni macellai ci offrono la carne putrefatta della musica italiana, sangue e grasso per sfamare il proletariato annichilito dalla simultaneità contemporanea. Tutto è perché tutto ritorni, in forme deformi ma affascinati e ossessive. Cose che fanno sembrare il "nuovo" che ci sommerge melma estratta dagli scarichi di un moderno istituto psichiatrico. Nulla sarà più come prima perché tutto ciò che c'era non è mai stato.
Tutto questo è racchiuso dentro una sfavillante copertina apribile illustrata da Enrico Infidel D'Elia e Simone Tso, dove troverete all'interno un vinile che vi racconterà cosa vi siete persi in questi anni di inutile sopravvivenza sonora. E così sia.
LATO ABC
Arrota
Cinese in Ferrari
Il maestro siamo noi
Una risata mi ci vi seppellirà
LATO XYZ
Fa molto caldo
Savonex
Prati al contrario ( My mobile loves)
Arrota Altrove
Drums in Prati al Contrario: Simone Pulvano
Groove Box programming in Arròta
e Fa Molto Caldo, drum loop in Una Risata mi/ci/vi Seppellirà: Marco De Tommasi
Recorded in Gnagnotech Studio, Rome
Sound Engineering: Marco De Tommasi
Cover Art: Enrico Infidel D'Elia e Simone Tso
Graphic design: Giandomenico Carpentieri
Executive Production: Roberto Giannotti
Share